SUMMER 2018 UPDATE
A hard-fought but nonetheless gloriously busy Montana Spring has given way to full-blown Summer. While we dealt with winter-like conditions wrapping up projects in Wyoming and Montana, we had heaps of fun skating, adventuring, occasionally bowling and creating beautiful concrete shapes. Here's a run down of this Spring's projects:
While in Wyoming, the crew worked hard, celebrated a few March birthdays and endured windy days in the field, punctuated by skate trips to Colorado and hot springs missions. This small yet dynamic skatepark in Douglas, Wyoming will be a welcome addition to the land of the mythical Jackalope. About an hour south of Casper on the i-25 corridor, this area is beautiful but sparse. The upgrade of the skatepark and integration with the existing concrete slab will help the kids progress and show them what fun & flow is all about. Next time you're heading through Wyoming, be sure to stop by and keep your eyes peeled for those odd little rabbits with horns.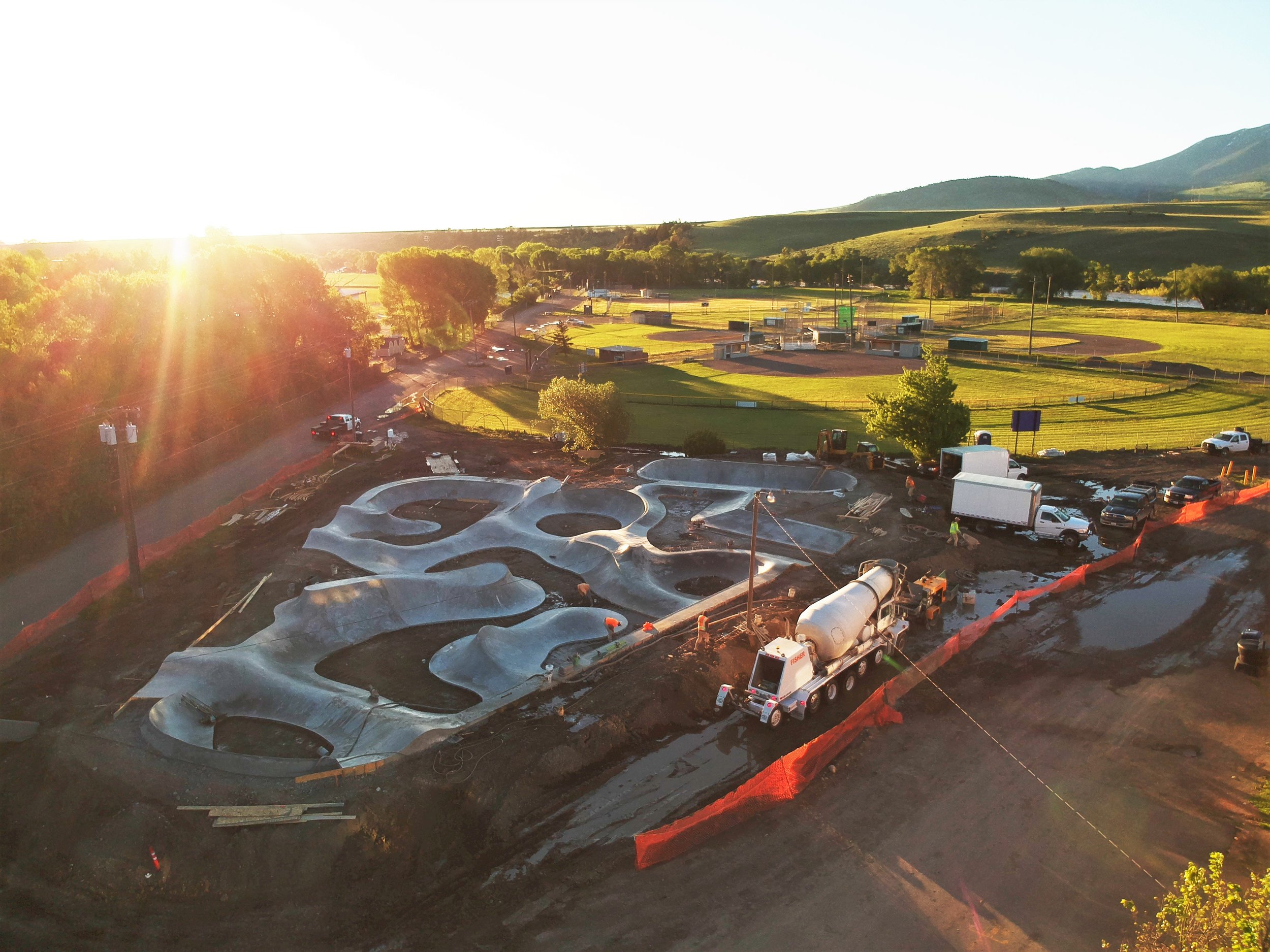 While Spring itself in Montana was slow-moving, the pace of the work was not. The crew wrought through sporadic snowstorms yielding cotton ball-sized snowflakes, mud, rain and the occasional wind torrent to bring a long-awaited skatepark to the town of Livingston. Being situated at the "Gateway to Yellowstone" was welcomed by all: quite a few excursions were made to the jaw-dropping national park only 45 minutes from the job site. This was when the bipolar weather came in handy - minimal tourists, maximum adventure. A few of the crew members caught some powder days at Big Sky, too! Once the snow melted at the resort, the Big Sky skatepark, a mini-Burnside, was also an option. All in all, the historic mining town was awesome to the Evergreen crew and was close to our second office location in Stevensville, so that meant lots of skate trips. The new McNair Skatepark features a flow area and the Montana Pool Service Bowl, brought to you by Jeff Ament.
Once the rest of the crew arrived in Livingston from Douglas, we worked as one unit until part of the group ventured to Box Elder in northern Montana to break ground for a new skatepark on the Rocky Boy Native American Reservation. Another project that would not be possible without the Montana Pool Service and Jeff Ament of Pearl Jam, we're stoked on this little piece of paradise.
After we wrapped up in Montana, the crew once again split up for the Summer. One group is currently in Frisco, Colorado crafting dirt and doing machine work to lay the groundwork for the new skatepark at the Frisco Adventure Park. Clocking in at 28,000 square feet this is our largest project to date and, needless to say, in a killer location! There have been a few wildfires in the region and more than a few in the state this season. So, stay away from fireworks and keep your eyes peeled for updates on this beautiful, gargantuan skatepark which will have something for every skater.
The remainder of the crew also gets to spend their summer lakeside in the scenic Coeur d'Alene, Idaho. Located only 30 minutes from Spokane, Washington, this will be the perfect pit stop for future skate trips from the PNW to Montana. Summer 2018 is shaping up to be beautiful and busy and we can't wait to share more with you. Check our Instagram for updates & enjoy the ride!